Facebook
l
Gallery
l
dA Portfolio
l
Watch Me
l
Note Me
Brisnova done and dusted and now i feel like i have no purpose... thus MOAR COSPLAY
BUT anyway,
MADMAN nationals 2011 Brisbane round!
congrats to

on her victory, it was well deserved
and tooo


as well for third place. I adore your costumes
HOLY CRAP i am so happy with our results, 2nd place was wonderful and not expected at all
we were the Stardriver group, people liked us it seems, go figure *shrug*

my partner in fabulous, whose costume was just a tad superior to my own (read that as a shitload better)
words cannot describe how impractical Head's costume really, and in retrospect i regret some of my colour choices but really that costume was beyond my skill level and I am happy with what i pulled off.
Friday i wore Ace of hearts again and found out I am worth $60 an hour (ohh slave auction you so rushed this year).
[link]
madman summary for cosplay, probs one of the better photos of us and a link to the ustream
no idea if this will work but hey worth a shot, this is just our skit
[link]
we were the 5th contestant in the comp so If you use Ustream towards the end guys (second last)
We had a shoot with

photos will arrive eventually
ANYWAY, Sunday ohh the sluttyness to be had
This is how it went,

basically went trollololololol genderbent PSWG for Sunday NOVA, then he dragged a friend into it. Then two more friends joined in Ken and David, So basically i went lol I can do that from my wardrobe. So i did
and here it is
With two friends (also Matthew,and Georgia)
then We got us some sexy sexy Briefs and an astounding garter-belt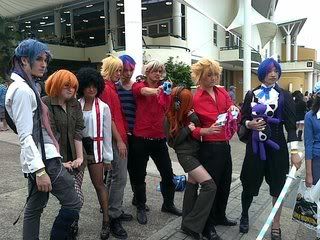 awesome con was awesome
also had PSWG photos with both

and

and i do not mind the glass, although i sort of do *disapoint*
I also owe a big thankyou to

for being our head wig stylist (ohh the pun) and sooo many others (who lack puns

)
CSS made by `
TwiggyTeeluck
Texture by `
Princess-of-Shadows